by Ann Norman
[Edit: This article was written prior to the vote for Prime Minister in the Thai Parliament. Pita Limjaroenrat, was the only candidate running for the position. The vote did not pass. He got 321 votes which is about 10 more than in his coalition. He would need about 50 more. The day before the vote, the Election Commission announced he was disqualified to serve as a Member of Parliament over some ridiculous technicality from the junta written constitution that in practice, only applies to prodemocracy leaders. Many suspect King Vajiralongkorn of interfering directly by making his wishes know to the Election Commission and junta-appointed Senators. The only thing I edited in this article after the vote was the title.]
We won! and by "we," I mean the Thai pro-democracy movement, whose songs I have been featuring at this website!
In Thailand's last election, prodemocracy parties won in a landslide. Though one activist friend quipped that the land didn't slide; rather, the sky tumbled down to Earth! (which is even more momentous). Not only did prodemocracy parties immediately grab 312 out of 500 seats in the last election, the particular party that won the most seats (152) is Move Forward, whose top campaign promises prominently include reform of the monarchy, and amending the lese majesty law! Meanwhile, the governing coalition, aka, The Dictatorship, only won 15% of seats. He he . . . For fans of this site, it doesn't get much better than that!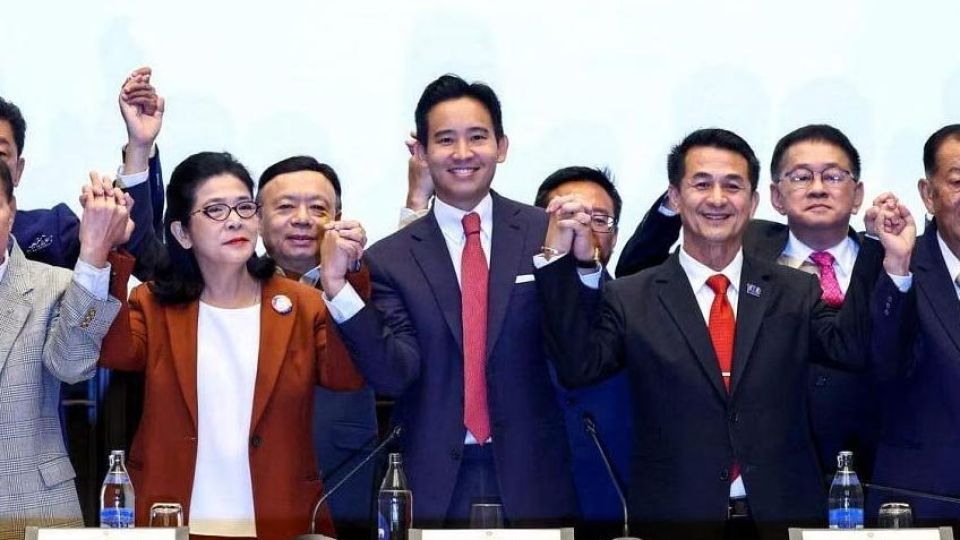 Goodbye to nine years of dictatorship
In May 2014 General Prayut Chan-o-cha overthrew the caretaker government that had recently replaced the elected government of Yingluck Shinawatra. An unstated but commonly understood goal of that coup, was to "manage" the royal succession from the sick and elderly King Bhumipol to his, it turns out, completely unmanageable, sociopathic son Vajrialongkorn. (To list the ways Vajiralongkorn has disgraced himself and Thailand since the coup would take the rest of this article.) Thailand would live under Dictator Prayut Chan-o-cha even through 2019 when elections and nominal democracy returned. In that election, prodemocracy parties won the majority of seats in the House of Representatives (and so should have been able to name the Prime Minister), but due to a rigged system put in place by junta as well as outright cheating on the part of the military government, Prayut Chan-o-cha managed to stay in power, as an "elected" Prime Minister for another 4 years, until the sky-tumbling election of 2023.
Mass protests in 2020
For multiple reasons, some listed below, Thailand's youth rose up in 2020, in mass gatherings across the country, speaking out against not only the military dictatorship but a decadent and brutal monarchy.
Thailand's youth grew up with social media and are as progressive as youth anywhere else in the world. Many young leaders of the prodemocracy movement in 2020 got their start standing up for their own human rights at school and demanding rights to freedom from physical abuse and authoritarian rules at their schools.
The LGBTQ movement, in particular, is very strong in Thailand. Many leaders of 2020 prodemocracy movement are LGBTQ themselves or are allies in the LGBTQ movement.
Hundreds of Thai dissidents in exile, including members of Faiyen band, broadcast their online shows openly criticizing the military dictatorship and the monarchy. For much of the period, the shows of Faiyen band, for instance, had 2 million viewers. There are only about 70 million people in Thailand. Within Thailand, hundreds of prominent dissidents, including activists, journalists, lawyers, and academics risked their reputations, their livelihoods and freedom, and their very lives opposing the military dictatorship.
Rap music played an important roll, with Rap Against Dictatorship's groundbreaking "Pratet Gu Me," ประเทศกูมี (That's What MY Country Has) being a turning point for the movement.
Thanatorn Juangroongruangkit, charismatic leader of the progressive, pro-democracy Future Forward party, did surprisingly well in the 2019 elections, and so, for contrived reasons, was immediately disqualified from holding office and banned from politics for ten years, and the whole Future Forward party was dissolved by the Constitutional Court on February 21, 2020. This huge blow to pro-democracy voters fueled the protests.
The assassination of Thai political refugee Wanchalearm Satsaksit, abducted in Cambodia, on Jun 4, 2020. was a last straw for many people after a series of 8 similar assassinations outside of Thailand, credible death threats to Faiyen band, and state-sponsored beatdowns of three prodemocracy activists within Thailand. According to reporting by Andrew MacGregor Marshall, the assassination of Wanchalearm was definitely ordered by King Vajiralongkorn. The public began to blame, and obliquely accuse Vajiralongkorn, for the whole set of similar assassinations as well as the death threats to Faiyen band. For instance, check out the Commoner song, "You Know Who" คนที่คุณก็รู้ว่าใคร.
Subsequent events
To make a very long story short, the 2020 mass protests came to an end partly because of covid. Scores of leaders in the movement were arrested and jailed, and almost every one of them caught covid as it swept through the prison system. The focus of the protests changed to simply demanding that jailed protest leaders be freed. And some of these political prisoners went on long hunger strikes attracting media attention.
Although Thailand had exemplary performance at the beginning of the covid epidemic, maybe due to almost universal compliance with mask wearing and/or the tropical climate, the government failed in terms of vaccine procurement. A contract to make AstraZeneca vaccine for the Asian region went to a little-known, inexperienced company owned by King Vajiralongkorn, which failed to deliver sufficient supplies on time! Offers of vaccines from the COVAX scheme and from India were turned down (echoes of King Bhumibol's "Sufficiency Economy" philosophy). Thanathorn Juangroongruangkit, the banned Future Forward leader, criticized Thai vaccine policy in a video that has been banned in Thailand. More generally the Thai economy was hard hit during covid without the income from international tourism and people suffered without adequate help from government.
Over time, the famous leaders of the 2020 protests were released from jail, but multiple frivolous legal cases, including lese majesty cases, still hang over their heads. This is certainly the case for protest musician Port Faiyen. He was sentenced to 6 years in jail for three ordinary Facebook posts, but is currently out on bail awaiting an appeal.
By 2023 protests had died down to dramatic actions by a few brave individuals: for instance, two young women "Tawan" and "Bam," famous for standing on street corners taking very visible opinion polls on so-called "sensitive subjects"; spattering themselves with fake blood outside the criminal court; and hunger striking.
It seemed quiet, not because the activists were discouraged but because the prodemocracy side was confident of an imminent landslide victory in the upcoming general election. Which is exactly what happened.
Post-Election Reality of 2023: The Dawning of a New Day?
Whatever happens next, attitudes have changed dramatically and permanently with regard to royal and military dictatorship. It used to be that lese majesty law and a pervasive atmosphere of fear put a check not only self-expression but even private thoughts. All this has changed dramatically, in large part because people finally began openly acknowledging the assassinations of Thai political refugees abroad. This led directly to calls for reform of the monarchy and repeal of the lese majesty law.
Not only did the prodemocracy side win hearts and minds as they exercised their human right to free speech under constant threat of violence, but due to the recent election results, individuals now know how very many like-minded political soulmates they actually have––fellow citizens who want to reform the monarchy and get rid of the lese majesty law! Everyone now knows all about the so-called "sensitive subjects". And because of the Move Forward win, everyone knows that that people are sick of the monarchy and the lese majesty law. And, furthermore, everyone knows that everyone knows that EVERYONE KNOWS! There is less pressure on prodemocracy activists to express support for policies they don't really like. Under these conditions, even junta-appointed Senators may jump on the prodemocracy bandwagon just to save their jobs.
We hear from news sources that Move Forward will face intense pressure from the many rich and powerful groups who want to preserve the lese majesty law and are loyal to the monarchy. I doubt it. Under King Bhumibol, many royalists viewed the lese majesty law not as a good thing but as a necessary evil: the king had personal secrets that needed to be kept from "ordinary people" so the whole country could unite under a respected symbol. But that ship has sailed. The idea of Vajiralongkorn in his crop top cavorting with his harem in Germany during the covid lockdown, killing a few random political refugees to mark important holidays, breaks the magic spell of sacredness that used to hang over his father Bhumipol and the whole Chakri Dynasty. "Protect the monarchy"! no longer works as a unifying rallying cry, or an excuse for "the establishment" to stage a coup.
And it doesn't look like "the Establishment" even wants a coup. In the last election, 32 of 33 subdistricts of Bangkok, home of "the Establishment," went to Move Forward!
The election outcome is a huge victory for the pro-democracy movement in Thailand. The change is real, it goes deep, and I don't think the former dictatorship will be able to block it.