Note: On a weekend in June, Jom Faiyen, who lives in exile in a country near Thailand, failed to return on time from a scheduled trip, leading friends and supporters to fear he had been kidnapped or assassinated by the junta, as sometimes happens to exiled dissidents. To everyone's huge relief, Jom returned safely. It was just a false alarm! While he was missing, I wrote this article in hopes of drawing international attention that would prevent the Thai junta from hunting or threatening dissidents.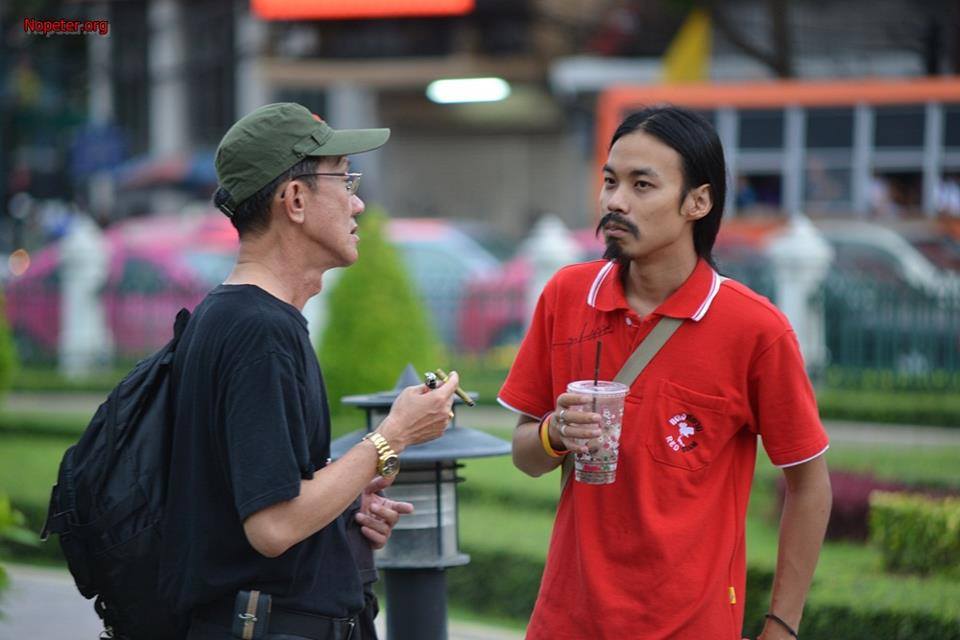 Jom is lead singer on famous Faiyen songs such as Status Quo, Hanging Tree, and The Last Letter. He had been a refugee in countries neighboring Thailand since shortly after the coup in May 2014. His name was on one of the first lists of activists and politicians called in by the junta for attitude adjustment.
In a recent interview, on the Facebook show, Kon 112 (The Lese Majesty People), hosted by Junya Yimpresert and myself, Ann Norman, the Faiyen band members mentioned that they move often from place to place to avoid being hunted down and killed.
Jom Faiyen was simply writing, playing, and singing clever songs that skewer Thailand's ruling regime. When I try to explain the situation of Faiyen to an American audience, I say, it is as if the whole cast of the American comedy show Saturday Night Live were exiled to Canada for making jokes about American President Donald Trump.
in the interview a few weeks ago (May 26, 2018), Junya Yimpresert asked Jom Faiyen what his dreams were, and he answered that he wished it were possible to clear the cases of those charged with Article 112 (lese majesty), to end the persecution and loneliness of the victims of Article 112, to free the 112 prisoners, to affirm their innocence and return their dignity to them. He also wished for a stronger ASEAN in regional politics, so countries could collaborate and work together, like the EU, to guarantee the human rights of people in their region.
Jom Faiyen (Nithiwat Wannasri) posted the above picture, with the comment below, on Facebook April 11. It is an old picture of him standing with Prawais Prapanukul, a lawyer currently in jail awaiting trial for 10 counts of lese majesty:
อีกหนึ่งคนที่ไม่ก้มหัวอย่างสุดโต่งต่อกฎหมายเผด็จการมาตรา112 ในประเทศไทย
เขาคือ ทนาย ประเวศ ประภานุกูล
ขอสดุดีในการยืนหยัดว่ามนุษยต้องมีเสรีภาพ
"One more person who refuses to bow their head all the way to the dictatorial law Article 112 [the lese majesty law] in Thailand. It is Lawyer Prawet Prapanukul. I would like to praise his steadfastness in saying that humans must have freedom."
EDIT: In a turn of events that is almost unheard of, the 10 counts of lese majesty against Prawet Prapanukul were dropped at the sentencing! Prawet refused to participate in his own trial, pleading neither guilty nor innocent, instead releasing a series of statements saying that the whole process was illegitimate. In fact, at his trial he was overheard shouting at the judge to sentence him to the maximum sentence "in abstentia." He was convicted of several charges other than lese majesty, including not participating in his trial. He will be out in August 2018!!!